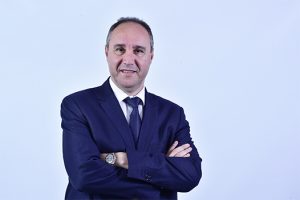 Omar Rebrab was born in 1967. After a BTS (technical diploma) in finance and accounting and a diploma in communications, he began his professional career in the family business Profilor.
He subsequently joined Metal Sider, then Agro Grains, which specialises in the trade in foodstuffs. When Hyundai Motor Algérie was created, he held the position of Managing Director from 1998 to May 2016.

Omar Rebrab has been CEO of the Automotive, Real estate and Services division since November 2012.
"Our aim is to become a key player in the automotive industry sector in Algeria in the near future. We are developing industrial projects that create value and wealth for the country and for the entire network of SMEs that are involved in our industry projects. At the same time, we will roll out our distribution network and will develop logistics centres for spare parts. Over the next five years, buses and lorries will come out of our plants, which have been manufactured in their entirety by an Algerian Group for Algerian people. In addition, we are planning to become the leader in commercial property development, by constructing shopping centres, hotel complexes, office blocks and residential developments."