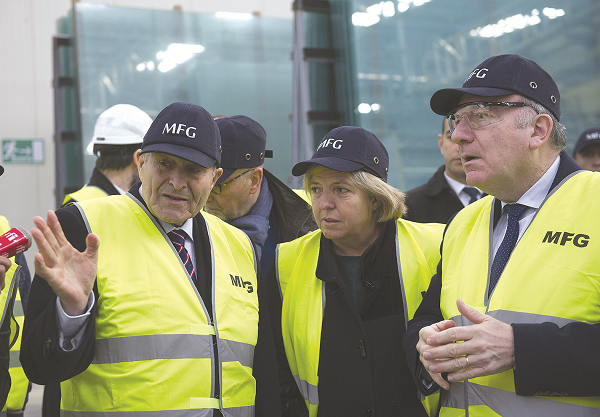 Retrospective on the MEDEF visit to MFG
February 18 2018
On Thursday (February 8th), a large delegation of French businessmen visited the MFG factory in Larbaa, the largest flat glass producer in Africa. The delegation, led by Pierre Gattaz President of Medef and accompanied by the Ambassador of France in Algeria, was composed of representatives of major French companies, including Dassault Aviation, Eutelsat, ICE and Ameublement Français. They visited for more than an hour with Issad Rebrab the state-of-the-art facilities of the plant's second production line, inaugurated in 2016.
France, a leading partner
In parallel of the visit, Issad Rebrab met with Pierre Gattaz, his delegation and the French ambassador to Algeria on economic partnerships between Algeria and France and their development prospects. The President stressed in this regard the concept of collocation between the two countries, successfully launched by Cevital with the acquisition of Brandt. For the Group, he said, France is the most important country after Algeria.
Algeria, as a link between Europe and Africa
With 40% of the world's population, the African continent is in great need of European investment to support its development. Both parties extensively discussed this point, emphasizing the important role that Algeria can play as a bridge between Europe and Africa.
Focus on new technologies
Issad rebrab took this opportunity of this visit to announce a new project developed by Cevital research centers. It consists of the production of seawater desalination membranes and units and the production of ultra-pure water for the pharmaceutical, food processing, semiconductor and gas and oil water treatment industries shale. The launch of this project is planned for this year.